What is this burning desire… ?
What is this yearning, beating inside of me?
Why me, being born here, constantly longing to go there… To find its gone.
( Ur, Jaga en dröm © Veronica Tjerned 2010)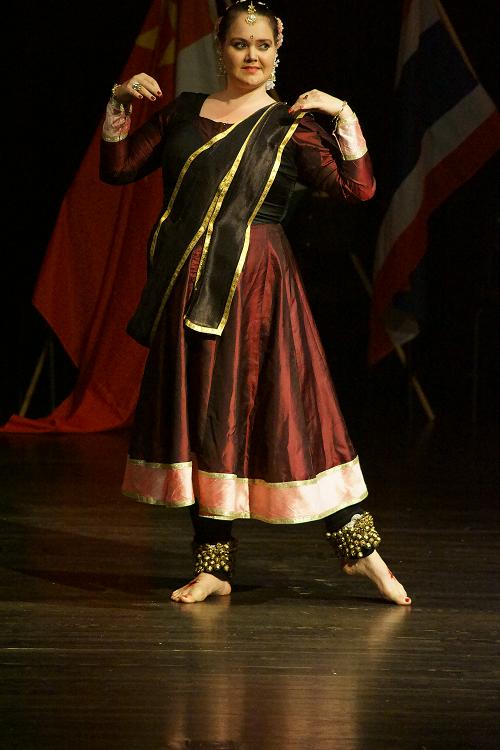 In my early teenage, I experienced a vision during one summer holiday. I realised I wanted to learn dance and to use my body to express a story. The same autumn I investigated all dance schools and found a small advertisement for Indian classical dance. It was exactly what I wanted, expressive, rhythmic and story telling.
That was my starting point and after that followed a long rocky path where I not only tried different classical dance styles from South India, but I also tried to tame my body into the western dance system. Being a Swede and being a western girl, I should stick to my roots! But my body doesn't correspond well to Western dance, and it just felt like simple make up, while the Indian opened up something deeper inside of me… a craving and a need, something bigger than life. So started my quest that made me sacrifice a good career, money and family.
In 1999 I received a scholarship to study in the UK and there I got in touch with kathak dance, the classical dance form from Nothern India… it was like coming home. Since then kathak has been the beat of my blood stream. And finally in 2013 I received an ICCR scholarship to learn kathak for a longer time span in India. My teenage dream finally fullfilled!
For three years I studied kathak at Bharatya Vidya Bhavan in London 1999 – 2002. It was not my plan to move back to Sweden, it just happened and in 2003 we organised our first Indian classical dance and music event at Skulpturens hus / Vinterviken, with guest musicians and dancers from UK/ India. That event was the starting point for our organisation, Den asiatiska dansakademin, which is celebrating its ten years of existance in 2013/2014. Its called academy as our aim is to invite top class artists and musicians with an academic background to enhance and develop the general knowledge of Indian classical dance and music in Sweden. Every year since then, we have arranged camps for intensive training where students can receive talim in North Indian classical dance and music. Also, dance projects have been organised and performances with guest artists arranged. We also try to promote artists living in Sweden and to nourish the second generation of kathak dancers and hindustani musicians.
Sometimes I wish the students could understand how fortunate they are to receive everything they need here. They don't need to leave Sweden to learn, as I have done, and honestly every step learnt I have spent almost one year to get.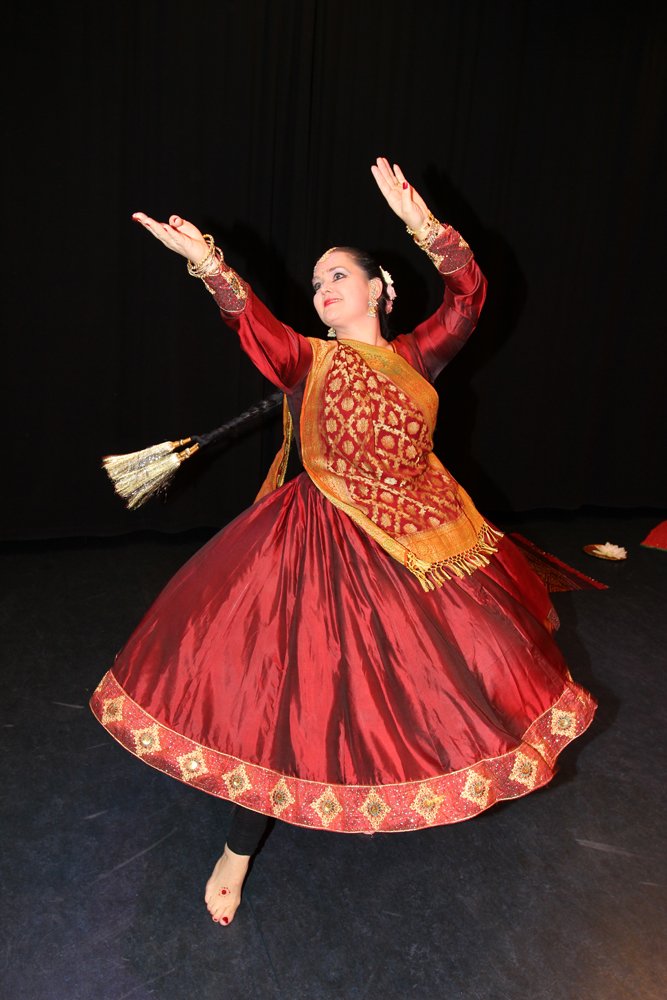 I will spend most of the academic year 2013/14 in India and some of my senior students will run my classes. It makes me very happy to know that there has been a small imprint of all the hard work I have done during my ten years in Sweden trying to create a space and place for kathak.
What are the future plans for DADA ?
The goal is to develop DADA further, to arrange more camps and invite more dancers and artists as well as boost our younger generation. To foster a knowledge that Indian classical dance is an artistic expression and when you can master it, you can express all the sentiments of human nature.
We have great plans on how to celebrate DADA's 10th year anniversary and I will let you know more about that in the beginning of next year. So far, I am happy to know that my dance classes are going to start on Sundays at Sensus, Medborgarplatsen, Stockholm.
How are you gonna spend your time in India this year and next year
My present life in India contains studies in kathak, tabla and hindustani singing. Its such a fantastic experience to feel I have time, with no stress; just me, my Gurus and to learn. And what ever I will learn, I will come back and share with you in Sweden…
India has the oldest and greatest dance tradition in the world. Please don't let it down. In the UK some of the biggest cultural exports in recent times have been British born with South Asian origin. Let us help the young generation here to develop their artistic sense and knowledge and not to dilute it into some multicultural, kitsch, colourful and non complicated entertainment at city festivals. It deserves the same respect as our stage art forms being presented on stage in Stockholm. Good art is always good art and should never be simplified; it should be respected and given space.
Brief history of Veronica Tjerned and Den asiatiska dansakademin.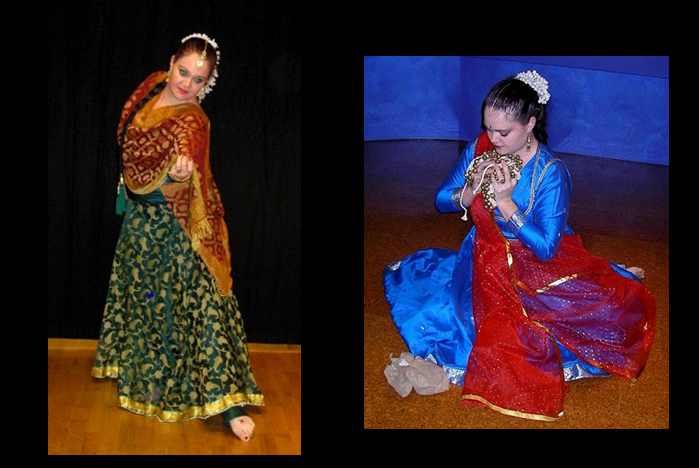 Project run by DADA and Veronica Tjerned:
TAAL – Två sidor av mig. 2008. Kathak dance and music project for young kathak dancers living in Sweden. Music composed by Debasish Mukherjee, Kolkata.
 I min del av stan, 2009. Kathak dance and music project for young kathak dancers living in Sweden. Music composed by Debasish Mukherjee, Kolkata.
Both projects dealt with identity, to be born in Sweden with Asian origin. Can I become a kathak dancer without having to leave Sweden? Can I listen to hindustani music and Hip hop?
Siden vägen – sidentes väg 2009. A poetic story based on silk and emotions created by silk. Music composed by Debasish Mukherjee, Kolkata.
Dance production for children. Min storasyster Anarkali. ( this production was selected by Stockholms länslandsting, för Kultur i vården för barn.
Solo performances with live music. Debasish Mukherjee on tabla.
Stockholm water price, Blå hallen, Stadshuset.
Vox Pacis. Stallet. Stockholm sangeet conferens. Oceanen, Zebra dans m fl.
Soloperformances to recorded music.
Nybrokajen 11, Musiker utan gränser.
Stockholms kulturfestival. Brokiga Bengalen. Internationella steppfestivalen/ Södra teatern. Zebra dans.
Veronica gives workshops and lecture demonstrations all over Sweden and Europe and has develop a unique style to teach indian dance and culture to younger children.
Guest artists
Musicians associated to DADA.
Debasish Mukherjee, tabla.
Kathak dancers that have been connected to DADA.
Hanna Mannila, Quincy Charles, Nikki Grainger, Prasant Shah, Lajja Sambnath, Natalia Ivanova, Sushmita Ghosh, Sujata Bannerjee and Mitul Sengupta.
Educations: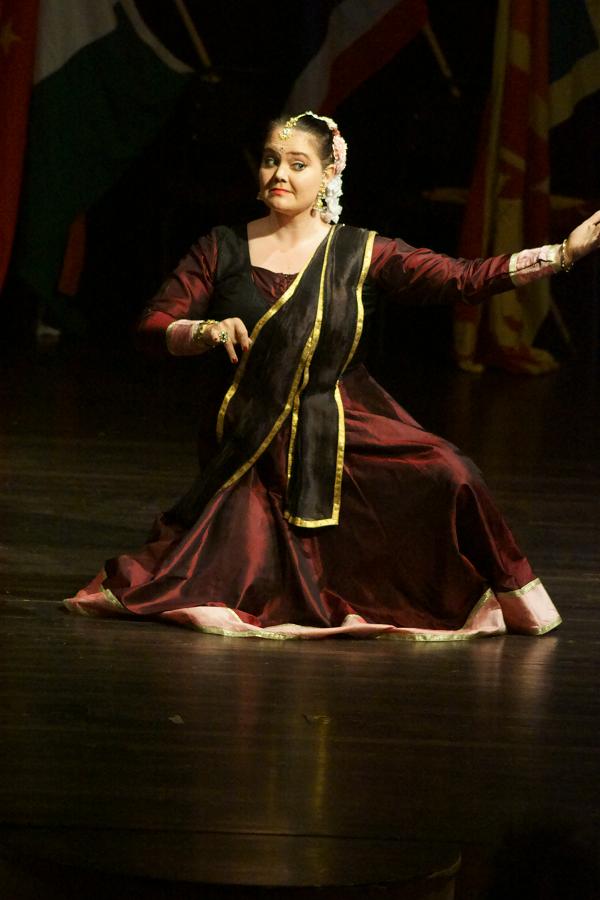 Veronica is educated, danspedagog, at Dans och Cirkus högskolan i barndans, pilates och kleinteknik.
Skapande dans steg 1, 2 och 3 på Stockholms musik pedagogiska institut.
Aerobics instruktör S.A.F.E
Balett akademin yrkesförberedande. Kulturamas danslinje, Härnösands folkhögskola och Commediantlinjen.
Bharatia Vidya Bhavan. London.
She has been connected to Hari Mohan Surabitan institute in Kolkata between 2007 – 2013 and is an ICCR scholarship student at Ballygunge Rhythmosaic school of dance institute 2013/14.
Veronica Tjerned
www.denasiatiska.se

Category:
Dance
,
India
,
Stockholm
,
Sweden
Tags:
calcutta
,
dada
,
dance
,
india
,
kathak
,
stockholm
,
Sweden
,
veronica