Amid the biggest diplomatic crisis in the Gulf after four Arab nations cut ties with Qatar – accusing it of destabilizing the region with its support for Islamist groups, its state-owned flag carrier (Qatar Airways) has begun diverting its flights to Europe, North America and North Africa via Iran instead of Saudi Arabia, flight monitoring services said on Tuesday.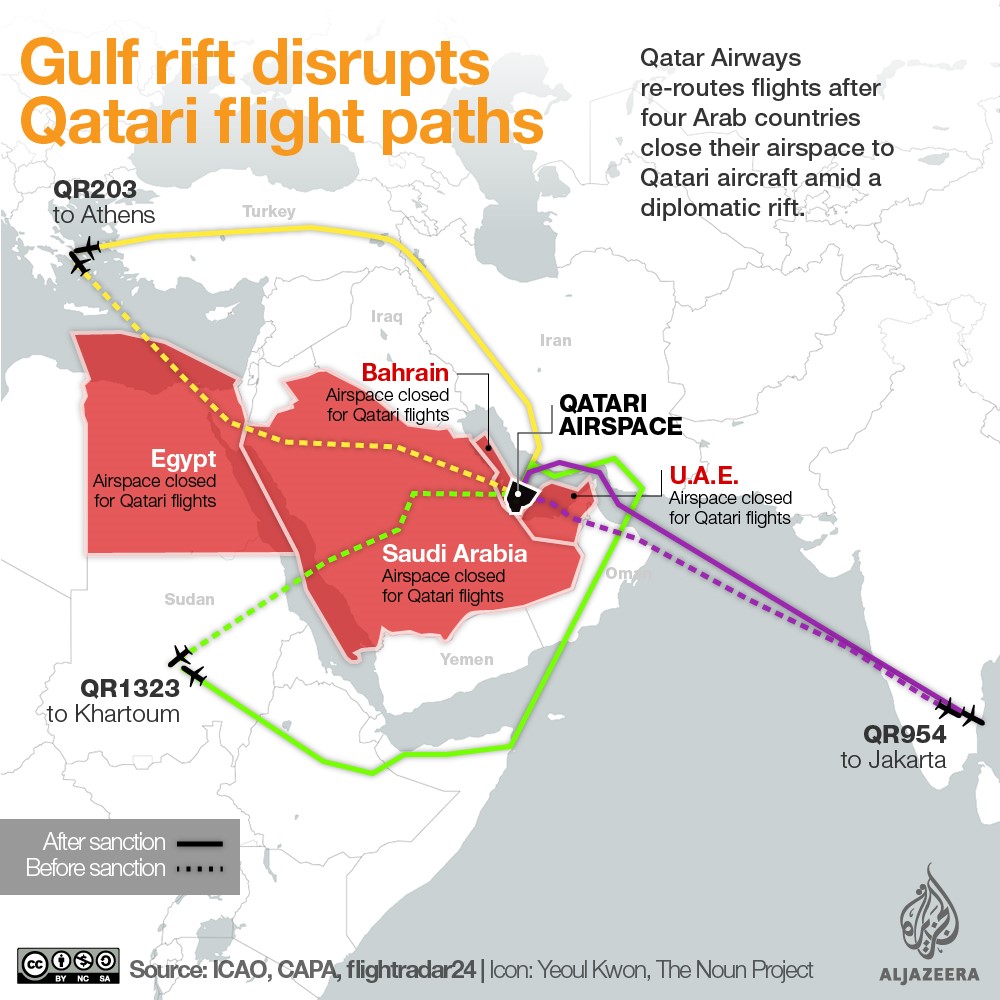 An image by flight tracking group Flightradar24 showing the reroutes that Qatar Airways flights will have to take because of the blockade.
 
Qatar Airways has offered all its customers an alternative route or refunds on their flights. Analysts said the altered routes for Qatar Airways flights will lead to longer flying time.
The cutting of diplomatic ties between Saudi Arabia, the UAE, Bahrain and Egypt on one side and Qatar on the other has resulted in the closure of the airspace of these countries to Qatari flights.
The flight suspensions will immediately impact passengers on busy air routes between the Qatari capital, Doha, and other Middle Eastern cities, such as Egypt, Abu Dhabi and Dubai.
FOOD, FUEL & FLIGHTS:
FOOD : Qatar might have natural gas or oil, but it doesn't really produce its own food, almost all of it comes from Saudi Arabia. Now that the borders have been shut, food prices in Qatar could skyrocket.
FUEL : Qatar's stock prices have already been hit, but oil is going up. Benchmark crude is already trading at around $50 a barrel. Any kind of instability in the Middle East tends to affect the oil prices, and the longer they stay unresolved the longer you pay more to fill up your tanks in the morning.
FLIGHTS : Qatar Airways is one of the biggest airlines in the world which is no longer allowed to use the Saudi, Bahraini, Egyptian or Emirati airspace, which means flights to Africa or even North America would have to take a huge detour resulting in more fuel, more time in the air and some say higher ticket prices.
Although flights between Chennai or other Indian cities and Qatar have not been suspended, people who land in Doha may face trouble because the country has stopped exchanging dollars for Qatari riyal.
People who had booked tickets to return to India from other countries in the Middle East on Qatar Airways or on flights that come via Doha will get affected. Those who have booked via Doha to travel onwards from Chennai may not be affected now as flights are being operated. However, if the crisis continues it will lead to a dip in travelers via Doha to the US and Europe.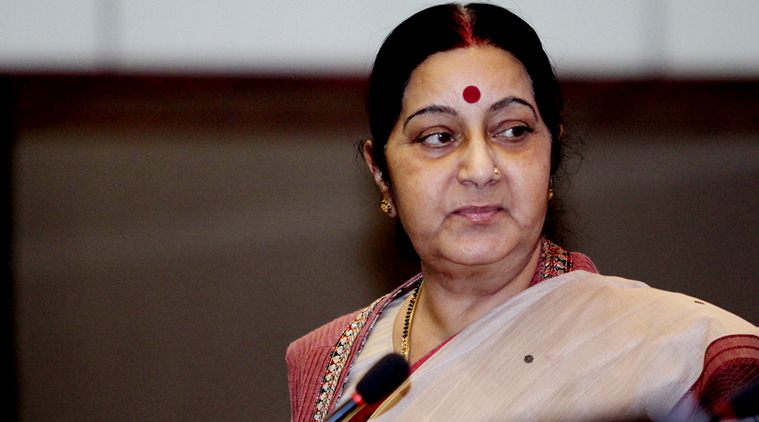 External Affairs Minister Sushma Swaraj on Thursday said that India is constantly monitoring the situation in Qatar which is facing crisis after isolation by four Gulf countries. The minister's statement came in reply to a user who tweeted that her brother and other Indians were still stuck in Qatar and they need help from the government to bring them back.
The person had tweeted, "@SushmaSwaraj My brother wid other Indians stuck in Qatar wid storage of basic enmities, they need our govt help. Plz hlp to bring dem back", to which Swaraj replied, "This is just not correct. We are constantly monitoring the situation in Qatar".
Category:
Govt. of India
,
Travel
Tags:
airlines
,
europe
,
expats
,
mid-east
,
qatar
,
qatar airways
,
qatar crisis
,
travel