Jennifer hails from Gällivare currently living in India , she is an incurable dreamer in love with life. She just finished her internship at an IT company in Kochi, within Sales and Marketing , now setting off for new adventures. Jennie tells her experience about the wonderful Onam celebrations she had at her office in Kochi
 Onam was celebrated in grand way at my office Brigde Global IT Staffing. We were all dressed up according to the Indian traditional way, the women dressed in saris and men dressed in Mundus.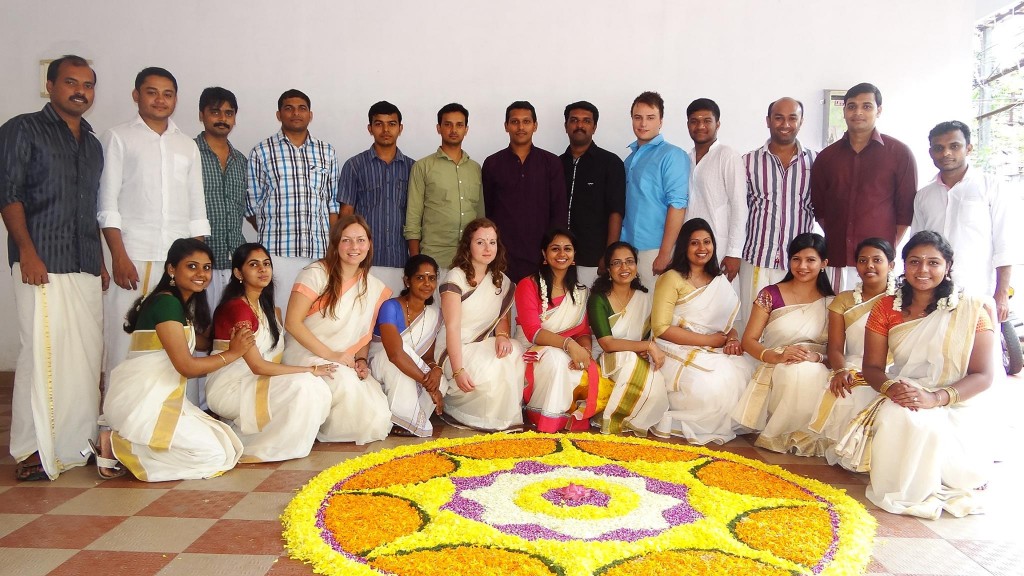 This is most of my colleagues here in India. The artwork on the ground in front of us, it's floral artwork can be seen everywhere these Onam times (and even in the grocery store that is so small and tight, they put out these flower leaves on the floor). It is to welcome the king who according to the saga comes to visit his land once a year.
So this is why Kerala is celebrating Onam and it is one of the biggest festivals here, comparable to Christmas I guess.On the main day of celebration everyone is free from work, and eat lots of food (Onasadya) with their loved ones.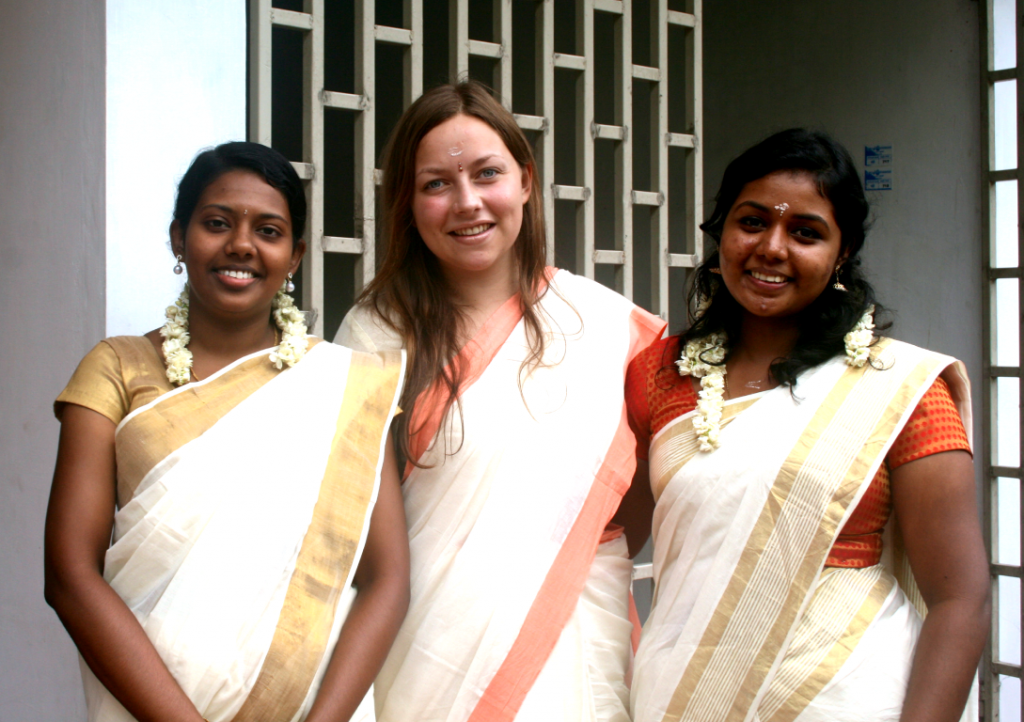 This is Shintu and Aswathi, two colleagues that I work very close to. They are part of our marketing team.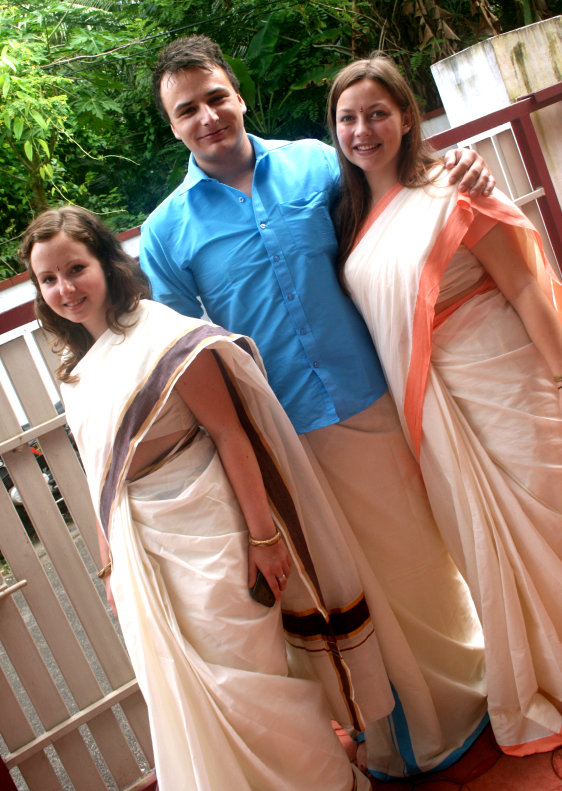 The foreigners. This is the two Germans who just started their internship at the Bridge and whom I also live with, Judith to the left and Moritz to the right, next to me.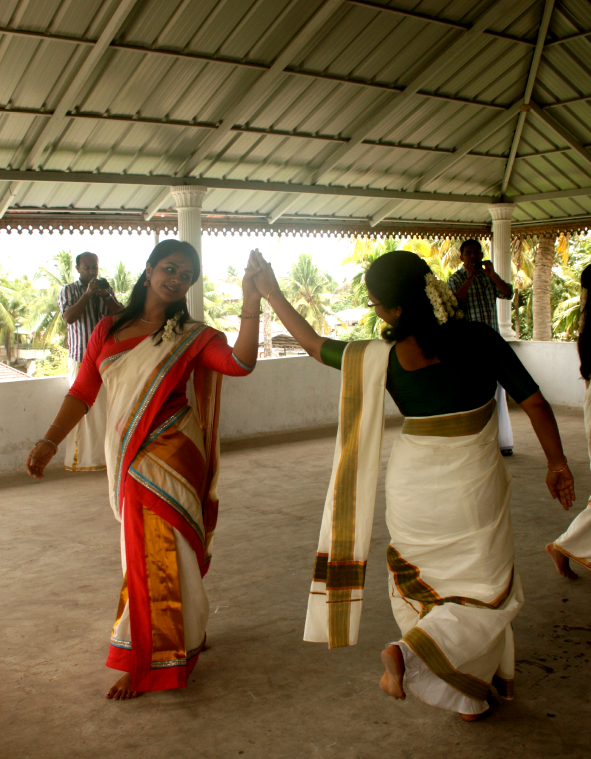 This is the dance they perform on Onam and it was very beautiful. Indians love to dance and sing, and I love it! Would you like to see a little video clip that I shot of the dance, you can do it here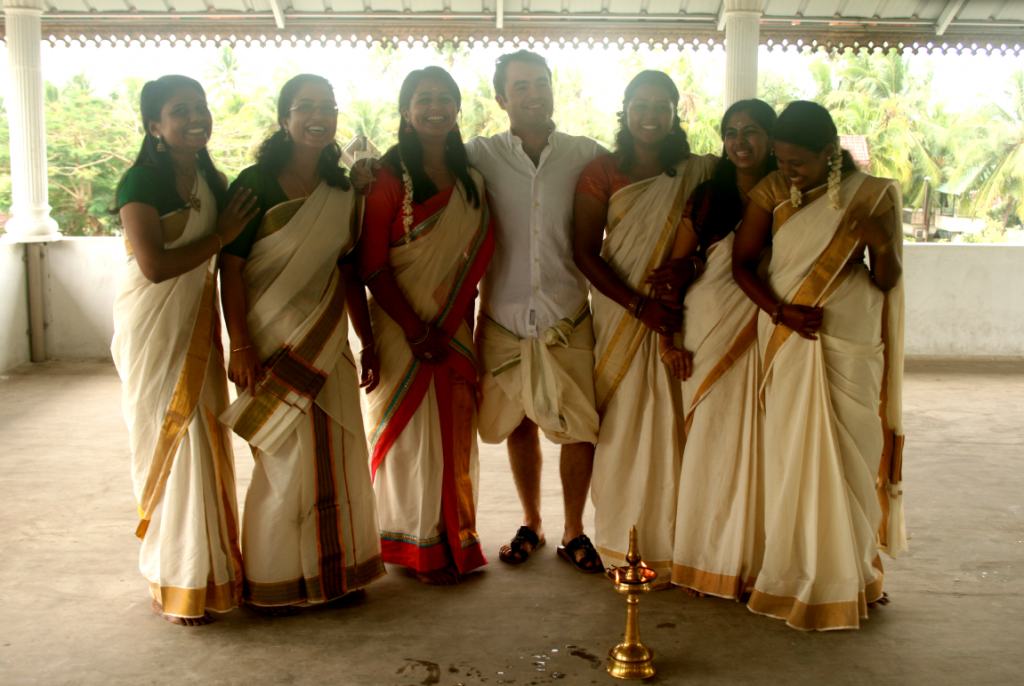 Then, it was time for food. We hung out at the balcony on the roof of the office and they rolled out long mats for us to have the food at. Then they ran around and served 'Onasadya' or 'meals' as they are normally called, on the big banana leaves. It's a very classical type of dish here; lots of little dips, all vegetarian, with rice and pappadam (a crunchy 'fried' bread). You can eat as much food as you like and it's very yummy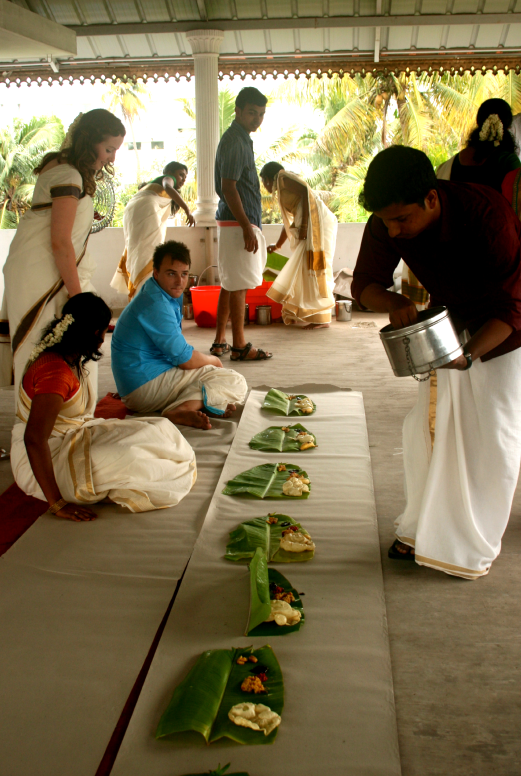 The Indian women are so incredibly beautiful in their saris. I feel mostly like I'm a wannabe who is just imitating, I don't feel like I'm supposed to wear this kind of dress. The saris in bright colors matched with golden jewelry looks stunning when the Indian women wear them with their black hair and dark skin tone – I watched them with envy.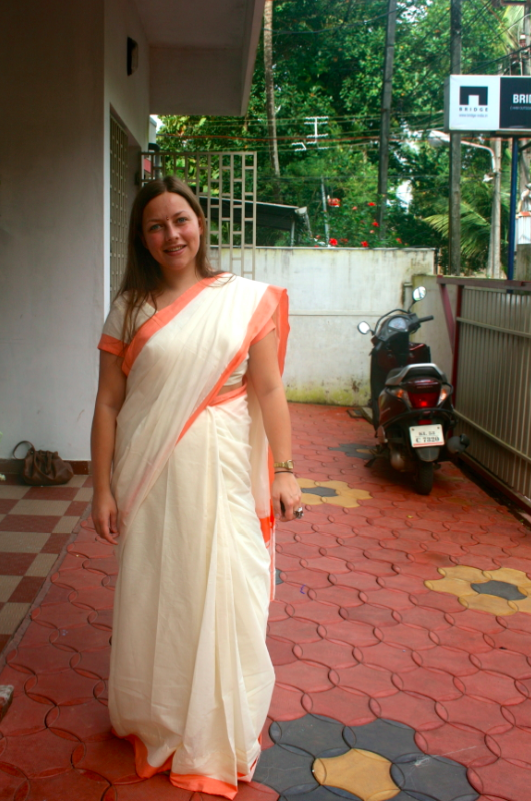 Getting dressed sari is an art – not even all the women here know how to do it. I think most Indians find it very comfy to wear, and I might look so at first glance – but I found it very hot and when walking in the stairs it was really just in my way. But in summary I found it a nice experience and I'm glad to get the opportunity to take part in real Indian celebrations like Onam. 
Read my adventures in India here : jennifersandstrom.se
Category:
Sweden
,
Travel
Tags:
india
,
indisk
,
kerala
,
onam
,
sadya
,
stockholm
,
Sweden