Search Indie had the honour of meeting and interviewing one of India's most innovative musicians, Pt Vishwa Mohan 'VM' Bhatt on his recent visit to Stockholm to play at the 2017 Stockholm Sangeet. He has received some of the most prestigious awards in the world of music – the Grammy, the Padma Shri, Padma Bhushan and the first Indian to be awarded the 'Musical Scientist Award'. However in the brief time we spent with this legend, we discovered that he is more than a musical genius. He is a man of great value, principles and humility.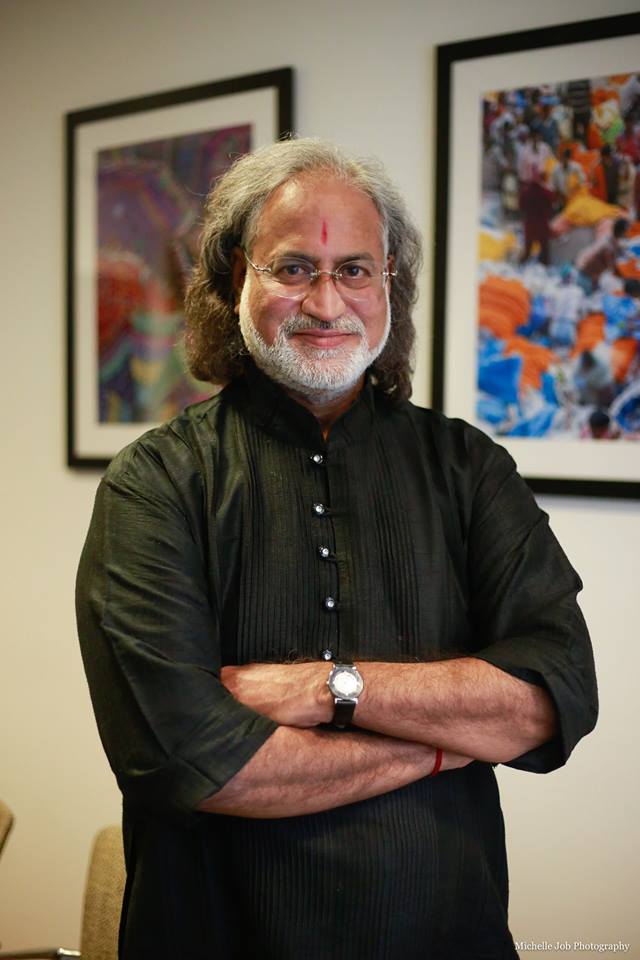 As Search Indie, we would like to take you one step closer to the Indian icons who visit Europe. Read, enjoy and be inspired!
Please share your early childhood and what drew you to music:
Classical music has been my family's heritage for the last three centuries. My parents, brother and sister are all performing artists. Music was an integral part of our lives. We lived in an environment of music. Therefore, I was drawn to music inevitably.
As you grew up, who is the musician you looked up to:
The Sitar virtuoso Ravi Shankarji was my inspiration.
What stirred you to invent the Mohan Veena?
Each Indian instrument has a very unique sound and distinct rhythm. I wanted to invent an instrument in which I can infuse these rhythms and sounds in a vocal style. By vocal style I mean smooth transitioning from one note to another without a break. This transitioning is what makes Indian classical music exquisite and authentic. This smooth transitioning along with the 12 sympathetic strings that provide sustain, resonance and echo simultaneously are exclusive to the Mohan Veena.
How has your association with AR Rahman been?
I first got a call from AR Rahman for the movie Lagaan to play for the song 'Radha Kaise Na Jale'. Then I went on to play for Saathiya, Thiruda Thiruda, Iruvar and Jana gana mana. Two months ago, I played for the song Neethane. It has been a wonderful experience working with him.
 Please describe your Grammy experience:
Exciting. Satisfying. Once-in-a-lifetime experience. A pat on the back acknowledging the good work and an encouragement to make soulful music. While creating music, an award is never in my mind. My only goal is to create music from the soul. However, when the Grammy happened, it was a great encouragement.
I remember it was past midnight in a studio in Santa Barbara, California. I had only a few hours in hand before I board my flight. I wanted to create something with improvisations that was true to the Indian classical music. As my fellow musicians played a chord, I caught the rhythm and asked them to start recording. I began to play from my heart. The entire piece was spontaneous and unexpected. Thus the 'Meeting by the River' was created. It had no rehearsals, retakes or sound equalisations. The exact sound of the instrument was recorded without any digital alteration. It's that purity of music from the soul that everyone fell in love with.
 With the changing trends, do you think Indian classical music is getting the recognition it deserves?
A few years ago, I visited a music store in Los Angeles. It was a massive store with different sections for each genre of music. As I strolled through the store I found all sections packed with youngsters except the section for classical music. It was then I realised that this is an universal issue. There are less takers for Classical music.
However, the situation is changing for the better in India. Thanks to an organisation called
SPIC MACAY
(Society for the Promotion of Indian Classical Music And Culture Amongst Youth). They reach the youth of India in schools, colleges and universities with inspiring workshops and performances by renowned artists free of cost. It has been a great privilege for me to collaborate with them.
SPIC MACAY has been serving our nation for nearly four decades now and we are beginning to see the fruit of their labour. Youngsters are beginning to value and relish Indian Classical music.
I always tell the youth, "All forms of music are rich and unique. However, we should never forget the music our ancestors have passed on to us. It is each generation's responsibility to treasure this art and carry on its legacy."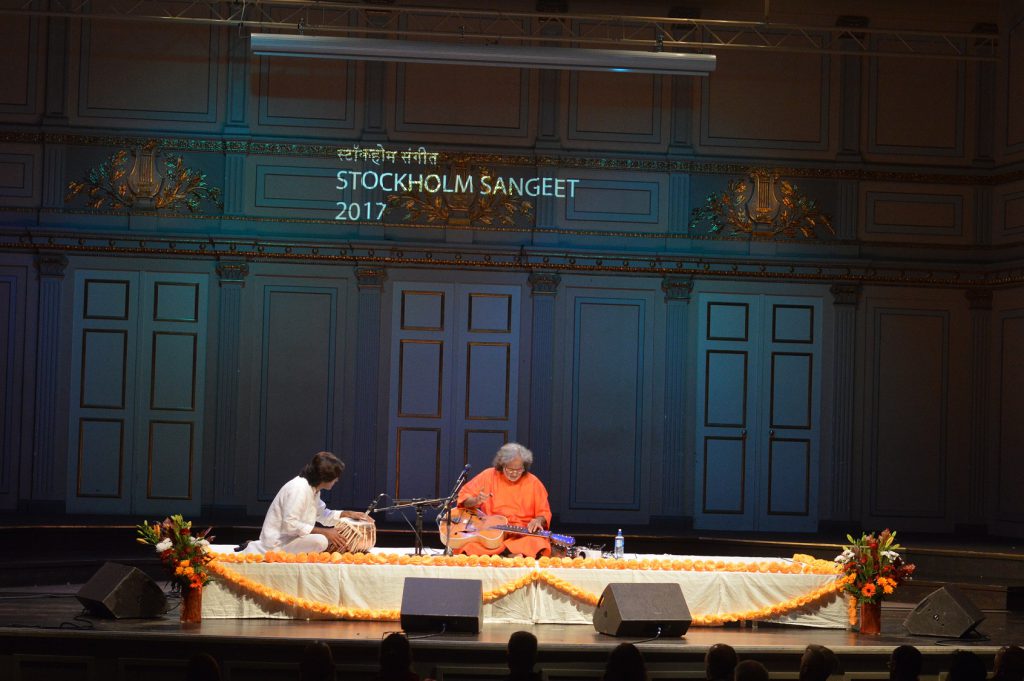 What do you think could be done to get more international attention for Indian musicians?
Indian classical musicians are in need of sponsors, promotions and glamour. The pop and rock culture attracts a great audience because of its glit and glam. I feel classical music could have a wider reach and impact with a little more of glit and glam!
What do you plan to play at the Stockholm Sangeet?
I will start with a traditional rag. It will have three parts to it – arag (the preliminary exposition of the rag) that introduces the mood, emotion and colour of the rag. The rag will be followed by a rhythm which I will build into a slow rhythmic composition that will gradually transcend into more complicated and intricate rhythms.
The audience always request me to play my Grammy winning 'the Meeting by the River'. I plan to play that piece and see if I can engage the audience to sing to it!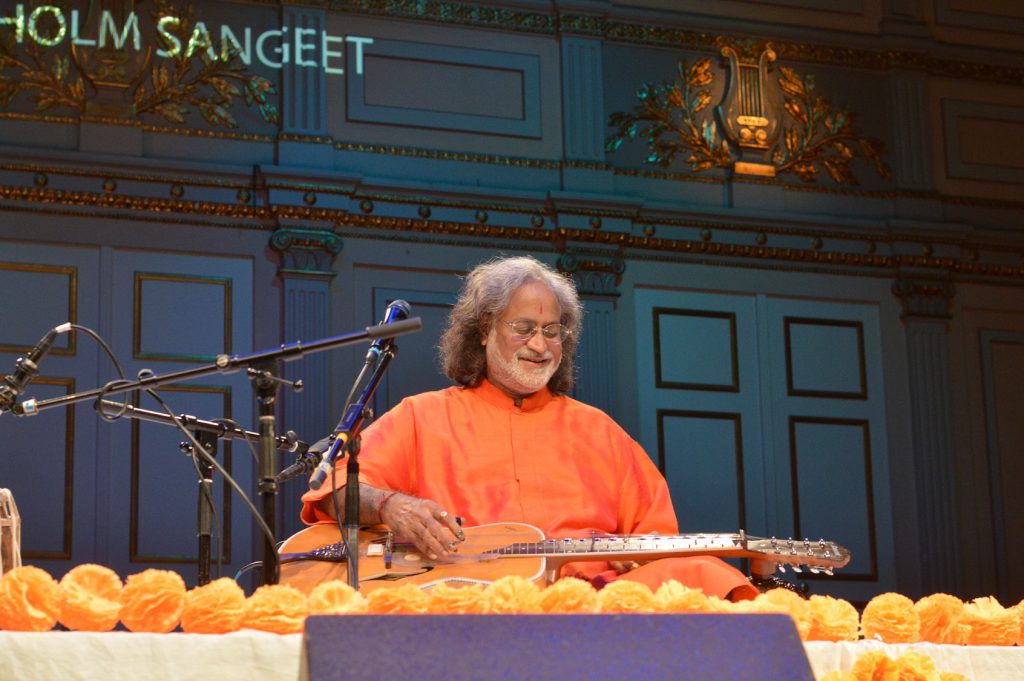 As you play the Mohan Veena, what would you like your music to do to its listeners?
As a little boy, I remember my mother and father telling me, "Mohan, you are a born artist. Your goal as a musician in life should be to evoke love and respect. Your music should sooth hearts. If your music has made people forget their sorrow and experience happiness, even if it be brief, you have achieved your goal! The moment they forget their pain and experience ecstasy, that's when they begin to connect with God. Your music should be a means for them to connect and converse with God!"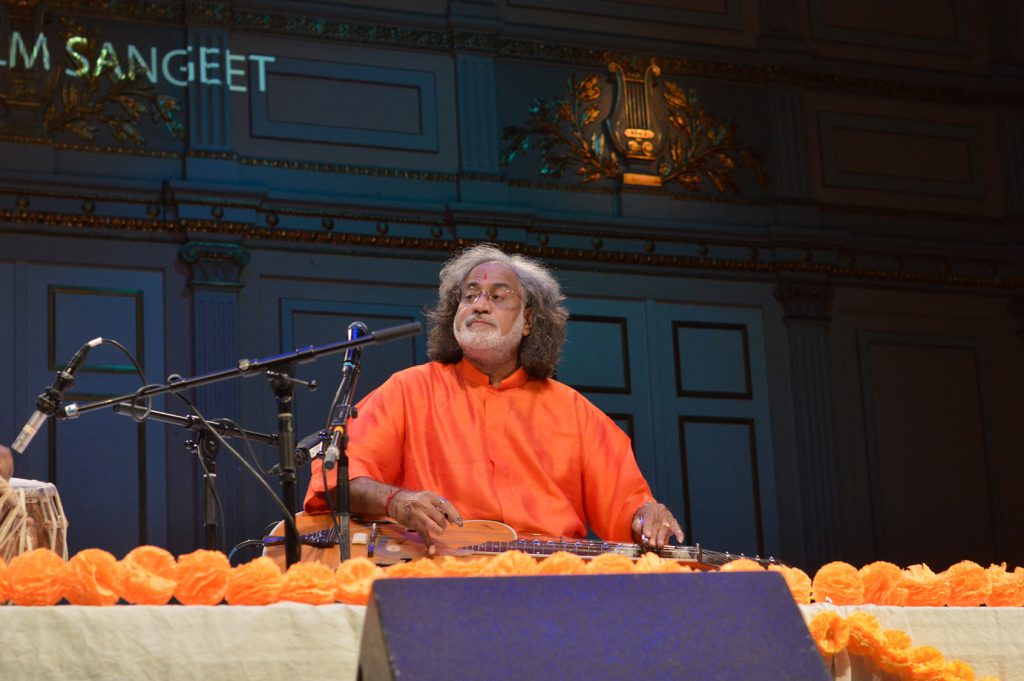 Of all the awards and accolades you have won, what would you consider you greatest reward in your musical journey?
My all time greatest reward would be my mother. She is the one who brought me into this world. I may not have seen God, but in her I see Him. As a family, for generations we have only played veena, sitar, tabla and sang vocals. I grew, travelled the world and my curiosity in western instruments increased, especially towards the guitar. I used to spend hours tuning the guitar and modifying it in search of a sound that was in my mind. My father and siblings used to tell me that this instrument does not belong to our family and that I should concentrate on our ancestral instruments. It was my mother who had my back at that time. She used to support me and encourage me. She figured that my heart was set on creating something new. She used to tell me, "Son, if you are persistent and dedicated in what you do, one day you will rule the music world!"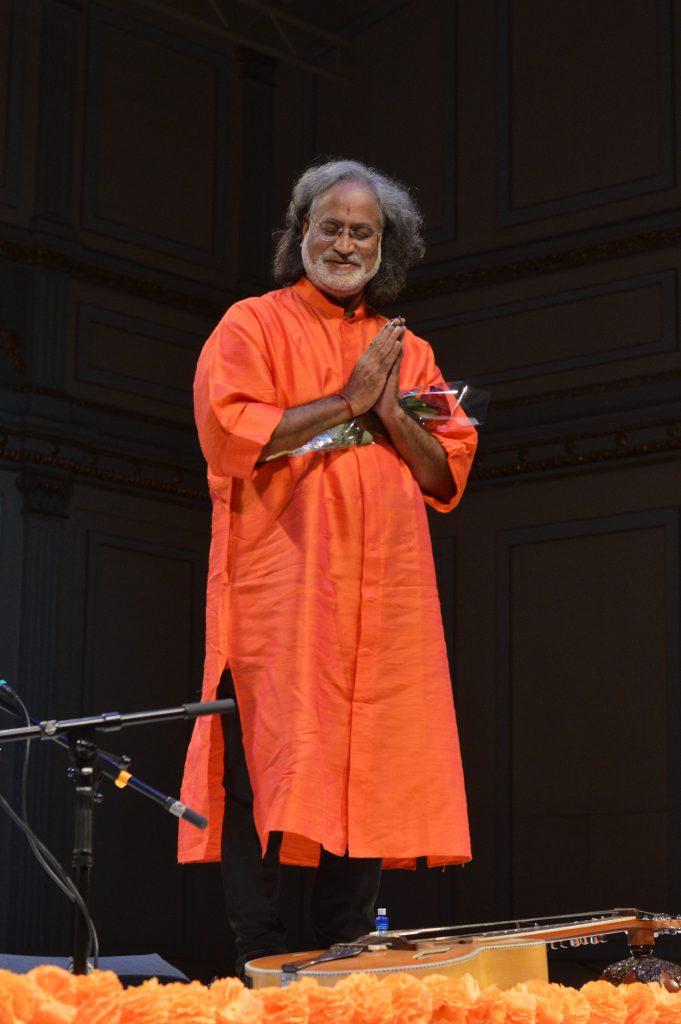 Share three principals that would help aspiring musicians:
#1 DO NOT Hurry
Music is a journey. One cannot become a musician over night. Patience and perseverance are integral.
#2 Discipline
Find a guru. Learn from him. Set a goal and work towards it. A life of hard work and discipline with help you achieve your goal.
#3 Discover your roots
Identify an elder in your family. Spend at least 30 minutes listening to them each day – their life, the life of your forefathers. A deep understanding of your roots will give a better understanding of yourself, making you a better person and a fine musician!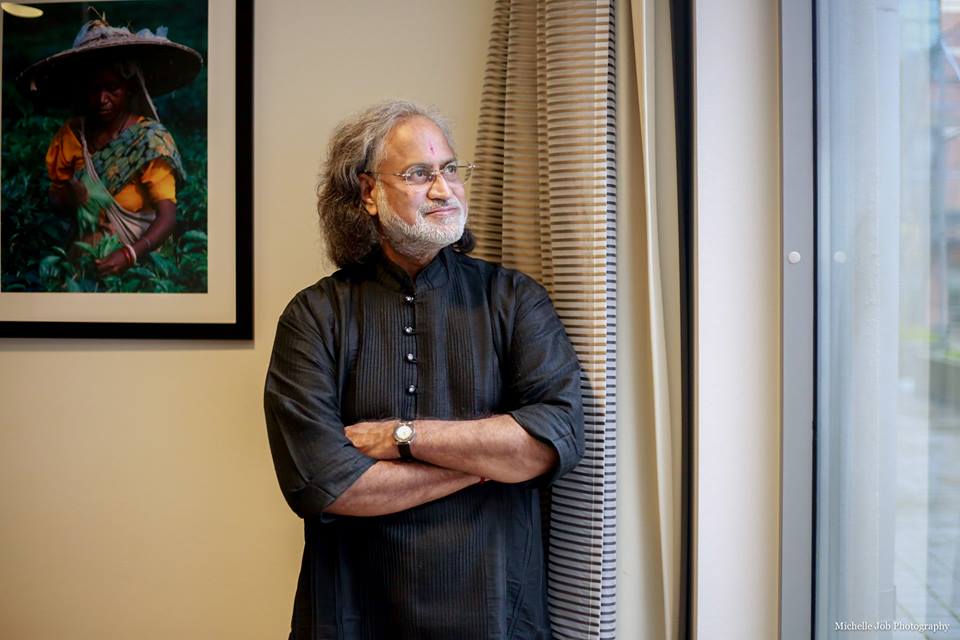 Category:
India
,
Interview
,
Music
,
Stockholm
,
Sweden
Tags:
Indian Classical Music
,
Indian Culture
,
stockholm
,
StockholmSangeet