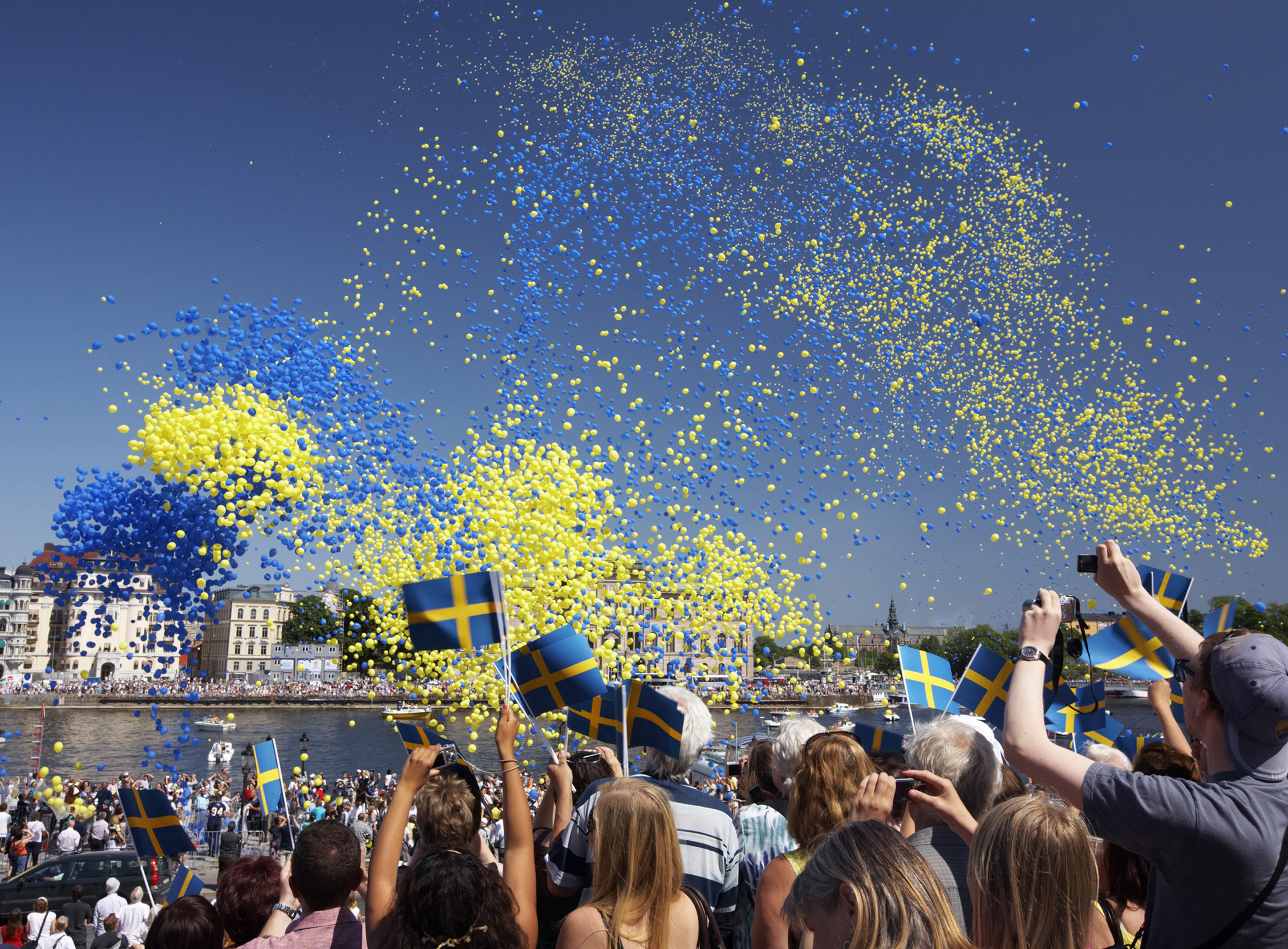 Swedes celebrate their National Day on 6 June in honour of two historical events. On 6 June 1523, Gustav Vasa was elected king, and on the same date in 1809, the country adopted a new constitution. Not known for displaying their national pride, this day offers a rare chance to see Swedes waving the flag.
National Day Celebrations
Stockholms Karnevalen 2018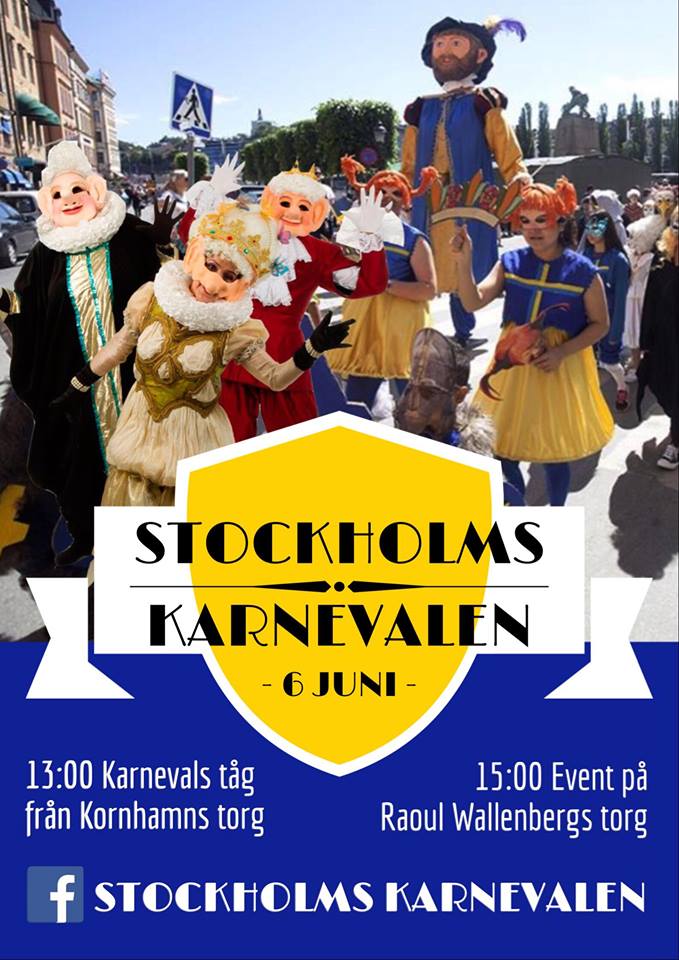 Celebrate Sweden's national day at Stockholm's most festive event!
The carnival train marches from Kornhamns square at 13:30 against the festivities of Raoul Wallenberg's square. There is a colorful program waiting for music and dance starting at 14:45. The program will be presented on June 1st.
Get dressed or borrow a gear free of charge between 11:00 and 13:00 on Kornhamns Square! It will be best if you pre-book your equipment via a PM to the event.
The initiator of Stockholm Carnival is the mask maker Elvira Santos who himself made the 300 outfits on site during the event. Come share her vision to pay attention to Swedish culture in a new and colorful way!
Humlegården
Time: 6 June 12.00-16.00
Location: Humlegården, parkleken
More details here
Haga
National Day celebrations at Haga
The Royal Opera, along with the City of Solna and the Royal Court, invites you to the National Day Celebrations in Hagaparken. Bring your friends and family – and celebrate with song, dance, music and, picnics in the lush park grounds. During the day there will be a number of fun activities.
More details here
Rålambshovsparken
Time: 6 June 12.00-18.00
Location: Rålambshovsparken
More details here
Farsta
Time: 6 June 11.30-15.00
Location: Farsta Centrum, Farsta gård
More details here
Skärholmen
Time: 6 June 11.00-16.00
Location: Skärholmens Gård
More details here
Vällingby
Time: 6 June 12.00-15.00
Location: Solursparken
More details here
National Day Gallop
Time: 6 June 12.30-16.30
Location: Gärdet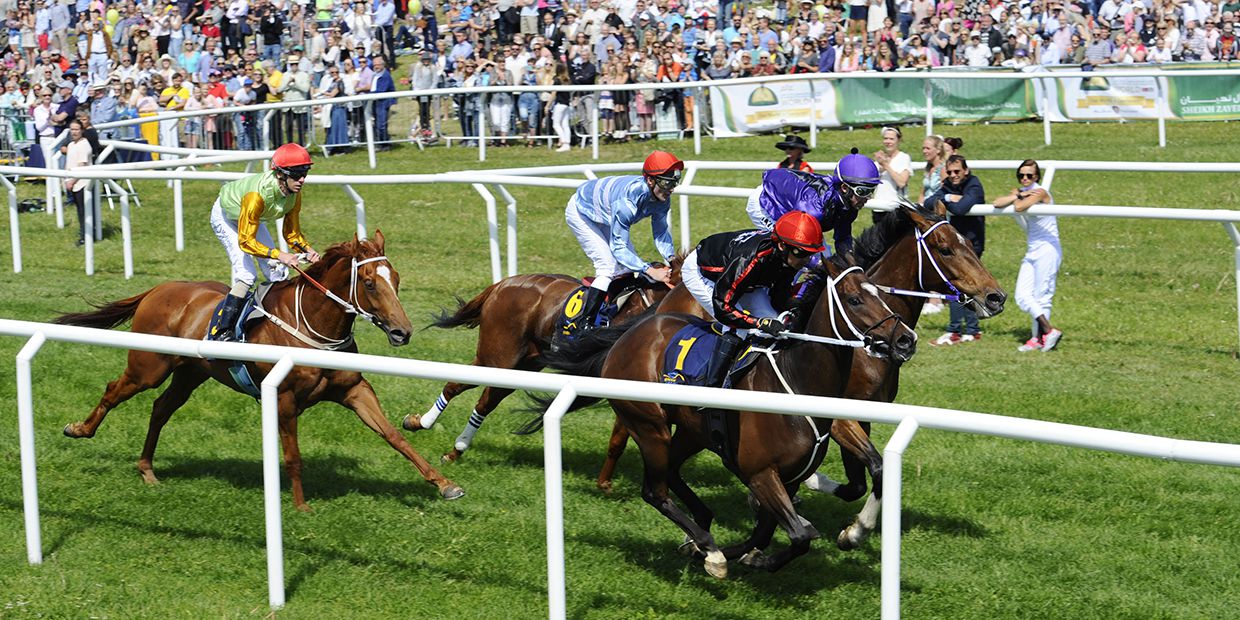 Traditional horse race on the classical land of Gärdet, Djurgården. The event also includes a lot of family activities.More details here
Skansken
Time: 6 June 10.00-19.30
Location: Skansken
The tradition of celebrating a National Day in Sweden was born at Skansen.
Artur Hazelius, the founder of Skansen, wanted to establish an annual day that would be a patriotic focus for the nation and he chose the sixth of June. This was the day on which, in 1523, Gustav Vasa had been proclaimed king and it was also the day on which the current constitution had been agreed in 1809.
Sweden's National Day has been celebrated at Skansen every year since 1893. For many years the celebration was known as National Flag Day but the day has now been marked by a public holiday.
This will be celebrated in traditional fashion: members of the royal family join a procession to Skansen where there are speeches, flag ceremony, singing, brass bands, folk music, etc., broadcast live by Swedish Television.
The programme on Solliden stage is broadcasted live in the Swedish public service channel SVT.
More details here
Sundbyberg
Time: 6 June 12.00-19.00
Location: Golfängarna, Sundbyberg
More details here
Umeå
Time: 6 June 12.00-14.00
Location: Gammila
More details here
Örebro
Time: 6 June 12.00-13.30
Location: Wadköping
More details here
Category:
Sweden
,
Swedish Celebrations
Tags:
hagaparken
,
Humlegården
,
national day
,
nationalday
,
Rålambshovsparken
,
skansken
,
stockholm
,
svt
,
Sweden
,
swedenflag